SÄKAPHEN Coating of Tube Sheets
Protection of Heat Exchangers, Condensers and Coolers against Galavanic Corrosion and Erosion, also Protection of Tube Ends
Thick film epoxy protective coating of Tube Sheets is a durable, cost effective method to protect newly fabricated and existing Heat Exchangers, Condensers and Coolers from corrosion and erosion caused by challenging process conditions, dissimilar metals (galvanic corrosion) and abrasion. SÄKAPHEN's range of cold cured epoxy coatings offer unrivalled performance and protection with the benefit of being available to apply both in-house and on-sites around the world.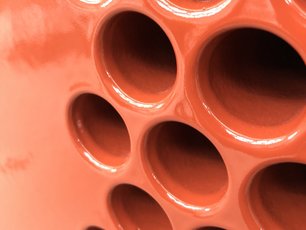 SÄKAPHEN cold cure epoxy technology ensures a one product, direct to metal application and aids the specifier and end user to maximise protection by being able to specify the thickness of epoxy coating with the corresponding length of tube protrusion, providing assurance of the highest quality and ultimately extended service life.
SÄKAPHEN's range of cold cure epoxy coatings can be applied at any desired thickness and are the protective coating of choice to protect either newly fabricated Tube Sheets or refurbishment of existing or damaged Tube Sheets where a combination of corrosion or erosion protection is required. Tube Sheet coating can be applied additonally to the use of SÄKAPHEN baked linings for the tube-side protection of tube bundles, shell and tube and u tube bundle heat exchangers. Depending on the design and the operational conditions, other SÄKAPHEN coatings may be applied to tube sheets.