SÄKAPHEN Epoxy Hybrid for Flooding Application
Versatile Cold Cured Epoxy Hybrid for On-Site Application
SÄKAPHEN's two-pack epoxy hybrid flooding coating system has been specifically formulated and designed for the shell-side coating of Tubular Heat Exchangers and specifically Box Coolers as used in marine service. Extended service life is assured due to thorough cleaning and re-coating during short transient docking times ensuring efficient turnarounds. Further, the lining is self-priming and formulated for direct to metal application.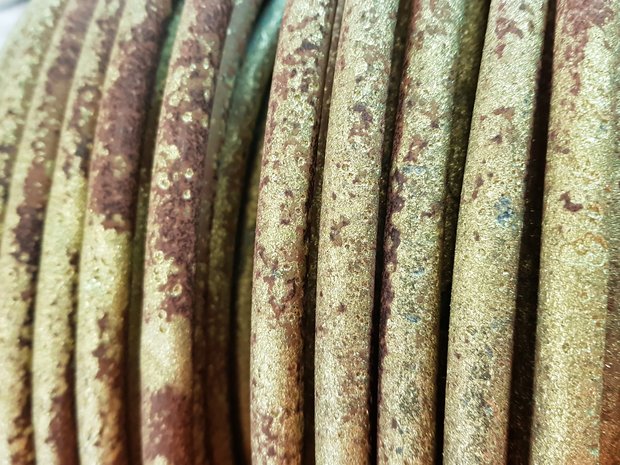 Following polymerization the two-pack epoxy hybrid coating forms a hard elastic surface with hydrophobic properties offering notable extended corrosion protection against sea water and protection against galvanic corrosion between Cu-Ni-Al (Copper Nickel Aluminum) and Carbon Steel often found in sea chests equipped with Box Coolers. In addition to further combating caking, fouling and incrustation, once polymerized the lining is fully machinable.
Furthermore, the cold cured floodable epoxy hybrid coating is not negatively impacted by the use of Marine Growth Prevention System (MGPS) or Impressed Current Anti-Fouling (ICAF). The enhanced abrasion resistance and most importantly advanced heat conductivity has been third party tested by 3M.
The coating can be applied to a wide range of metallic substrates extending from carbon steels to alternative alloys, such as Cu-Ni-Al (Copper Nickel Aluminum) and numerous types of equipment, particularly Box Coolers on site in shipyards during docking and for class renewal to name a few. The coating is resistant to temperature fluctuations and of course resistant to all types of water.
All SÄKAPHEN's cold cured epoxy based products can be applied on site by SÄKAPHEN located in Gladbeck, Germany and our international network of authorized applicators. SÄKAPHEN cold cured linings and coatings are ultra-high solids / low solvents with a volume of solids (wt%) of plus 80%.
For any specific chemical resistances, fields of use, technical questions or other lining and coating queries, please feel free to contact us for advice, we are always happy to provide support.
Two-Pack Floodable Hydrophobic Epoxy Hybrid Coating for Acidic to Strongly Alkaline Media. High Gloss, Grey Finish. Suitable for Box Coolers.